Kunstverein Langenhagen
Kunstverein Langenhagen is an institution for contemporary art in Langenhagen (Lower Saxony, Germany). Since its founding in 1981, the Kunstverein has dedicated itself to exhibiting, publishing and discussing emerging as well as established artists and their work.
Every year, the Kunstverein realizes about five solo and group exhibitions. With an additional program of public discussions, artist's talks, workshops and cooperations, the Kunstverein wants to act not only as an exhibition venue, but also as a place of exchange within and outside of Langenhagen.
Since 2000, the institution has been located in the former bowling alley of the Haus Waldersee in the center of Langenhagen. Additionally, it uses the former chapel in the Eichenpark of Langenhagen at irregular intervals.
mail@kunstverein-langenhagen.de
+49 511 54307230
+31 643 986 415
Walsroder Strasse 91A
30851 Langenhagen
Opening times:
Wednesday - Sunday 2 - 5 pm
Chapel (Eichenpark, Langenhagen):
Sunday 2 - 5 pm, and also on request
Membership
Kunstverein Langenhagen was founded in 1981 by citizens interested in art who wanted to create a contemporary art forum in Langenhagen. Thus, the members took an active part in shaping the cultural life of the city of Langenhagen.
Since then, Kunstverein Langenhagen has gained recognition far beyond the city limits as an exhibition venue for international contemporary art. It became an important player in the cultural region of Hannover. The steadily rising exhibition funding by the Lower Saxony Ministry of Science and Culture as well as other sponsors documents this public perception.
As a member, you are invited to help shape this success story and to provide active support. To finance the institution, we continue to depend on donations and funding. With your membership fee, you provide indispensable support!
In addition to exhibitions, the Kunstverein offers you various opportunities to share in an experience and a discussion of topics and media of international contemporary art.
Members support one of the youngest art associations in Germany as well as the development of contemporary art and artists themselves. Thank you!
Individual Member 30 €
Partner/Family Members 15 €
Students, Artists, Handicapped, Unemployed 15 €
Senior 20 €
Company Memberships 200 €
Supporting Members 70 €
Trial Membership (1 Year) 15 €
Please contact us if you would like to know more about your benefits as a sponsoring member. We are happy to inform you about the details of a membership. Tel. 0511 778929
Team
Noor Mertens, Director
mertens[a]kunstverein-langenhagen.de
Birte Heier, Communication & Production
heier[a]kunstverein-langenhagen.de
Philipp Valenta, Education
vermittlung[a]kunstverein-langenhagen.de
Alexandra Mirzoyan, Internship (archive)
mirzoyan[a]kunstverein-langenhagen.de
Board:
Holger Graab, chairman of the board
Ilka Schulze, treasurer
Frank Kurzhals
Martin Beister
Publications
Astrid Seme - Baroness Elsa's em dashes.
The purpose of the em dash is wide-ranging —as an appropriation of silence, as acting dissonance, as interruption, as occupying space. This anthology zooms into the pointed use of em dashes in the poems of pioneering Dadaist artist, Elsa von Freytag-Loringhoven (1874 – 1927). Her poems; performances; costumes and life-style all made a point of challenging bourgeois artistic and moral conventions with an unapologetically feminist, proto-punk aesthetic. The reader will find Elsa's works in conversation with the likes of well-known dashers such as Gertrude Stein, Lawrence Sterne, Heinrich von Kleist and the queen of dashing herself Emily Dickinson.
13€
10 × 14.5 cm, 88pp, English, edition: 400, design by Astrid Seme, no.1 of the Black Forest Library, 2019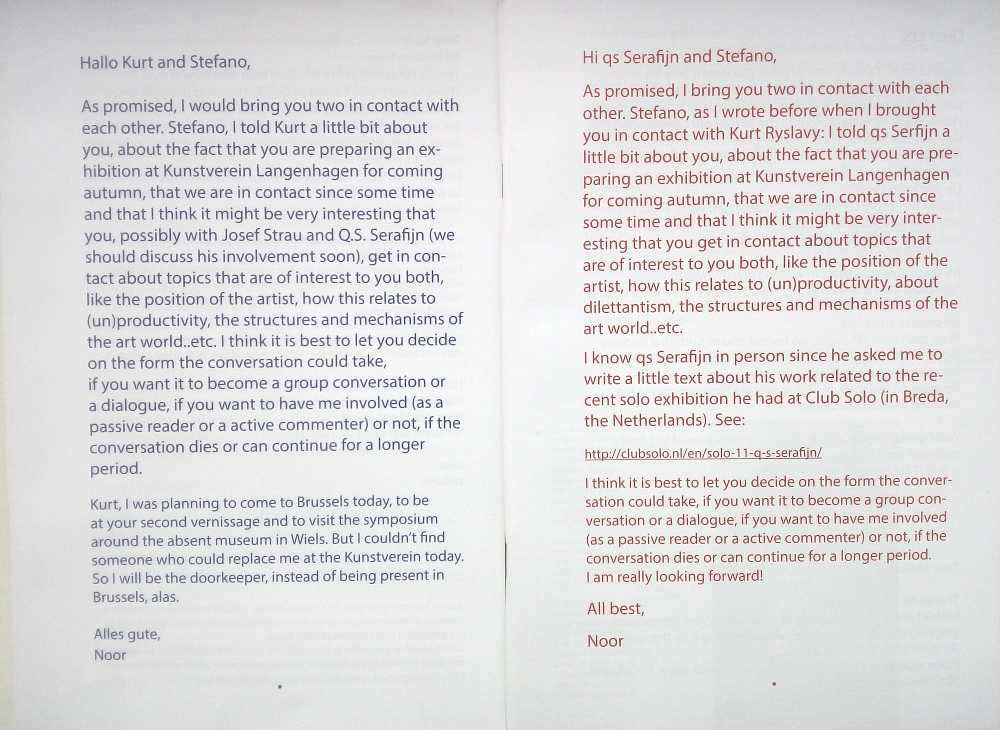 Stefano Calligaro
This book has No Title.
It is not even a book. You can call it what you want.
The only thing you need to know is that you are reading a collection of e-correspondence between:
Stefano Calligori and Q.S. Serafijn
and
Stefano Calligori and Kurt Ryslavy
Idea: Stefano Calligaro and Noor Mertens
Design: GuessWho?
2017